AIRPORT
TAXI
Barcelona – Girona – Reus
If you need to order a taxi for a service right now or if you want to schedule a pick up in advance, here you will find all you need:

Airport Taxi DEPARTURES
Taxi to take me to Barcelona airport
A taxi, the best way to go to the airport: it is comfortable and a thousand times faster than going on public transport; it avoids waisting time to look up for parking, like when you go with your own car; and you have us at your absolute disposal even at the most complicated moments of the day (in working hours, at night or early morning) without having to ask for favours to family and friends.

Airport Taxi ARRIVALS
A taxi to pick me up at the airport
The taxi is also the best way to get back from the airport: you can schedule the pick up and we are punctually at the door, without having to wait for a free taxi or third party services like the park&fly; and arriving to your hotel in a comfortable and fast way, avoiding to carry suitcases and/or getting lost in the city that you do not know well.

Taxi Small Airports
A taxi to go to the Girona or Reus Airport
If you travel or your flight arrives to one of this smaller airports (Girona or Reus), we are also  are at your disposal to carry out the trajectory in a faster, comfortable way and without waiting. In addition, as we take you, you will have an hour to rest or work.
Add our taxi service to your contacts
You will have us to hand.
We are your direct service of taxis in Barcelona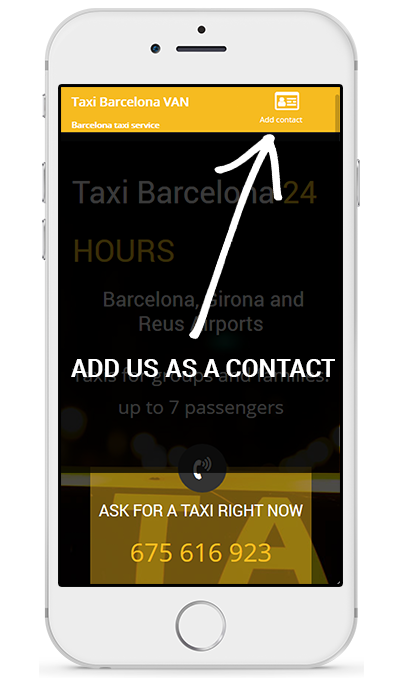 FOCUS ON THE MOBILE CAMERA OR WITH THE QR APP

ASK FOR A TAXI RIGHT NOW

Do your booking online
If you need a service for within the next 8 hours or more, fill in the web site form: